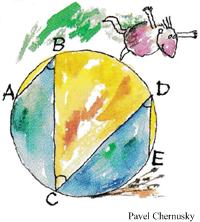 This is another delightful Brainteaser from the Quantum math magazine.
"All the vertices of a polygonal line ABCDE lie on a circumference (see the figure), and the angles at the vertices B, C, and D are each 45°.
Prove that the area of the blue part of the circle is equal to the area of the yellow part. (V. Proizvolov)"
I especially liked this problem since I was able to find a solution different from the one given by Quantum.  Who knows how many other variations there might be.
See the Circle-Halving Zigzag Problem