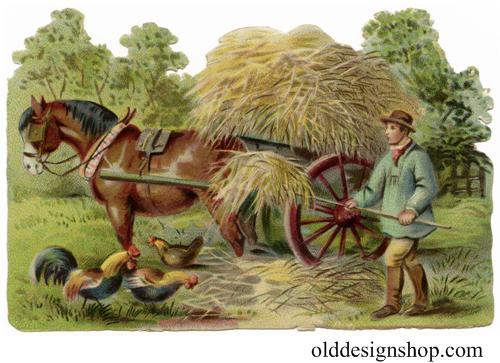 There is the famous chicken and the egg problem: If a chicken and a half can lay an egg and a half in a day and a half, how many eggs can three chickens lay in three days? Fibonacci 800 years ago in his book Liber Abaci (1202 AD) did not have exactly this problem (as far as I could find), but he posed its equivalent. And most likely the problem came even earlier from the Arabs. So we can essentially claim Fibonacci (or the Arabs) as the father of the chicken and egg problem. Here are three of Fibonacci's actual problems:
"Five horses eat 6 sestari of barley in 9 days; it is sought by the same rule how many days will it take ten horses to eat 16 sestari.
A certain king sent indeed 30 men to plant trees in a certain plantation where they planted 1000 trees in 9 days, and it is sought how many days it will take for 36 men to plant 4400 trees.
Five men eat 4 modia of corn in one month, namely in 30 days. Whence another 7 men seek to know by the same rule how many modia will suffice for the same 30 days."
By modern standards these problems all involve simple arithmetic to solve. But there are actually some subtleties in mapping the mathematical model to the situation, in which fractions, proportions, ratios, and "direct variation" get swirled into the mix—naturally causing some confusion.