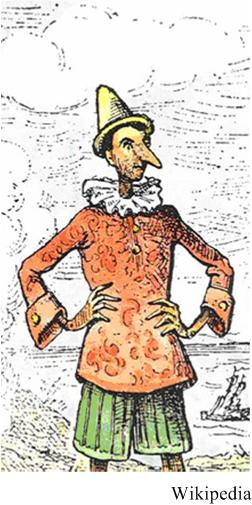 This problem in logic from Presh Talwalkar recalled an article I wrote a while ago but did not publish.  So I thought I would post it as part of the solution.
"Assume that both of the following sentences are true:
Pinocchio always lies;
Pinocchio says, "All my hats are green."
We can conclude from these two sentences that:
(A) Pinocchio has at least one hat.
(B) Pinocchio has only one green hat.
(C) Pinocchio has no hats.
(D) Pinocchio has at least one green hat.
(E) Pinocchio has no green hats."
Actually, the question is which, none or more, of statements (A) – (E) follow from the two sentences?
See Pinocchio's Hats