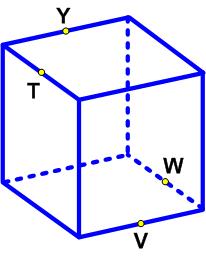 This is a problem from the UKMT Senior Challenge for 2019.  (It has been slightly edited to reflect the colors I added to the diagram.)
"The edge-length of the solid cube shown is 2.  A single plane cut goes through the points Y, T, V and W which are midpoints of the edges of the cube, as shown.
What is the area of the cross-section?
A_√3_____B_3√3_____C_6_____D_6√3_____E_8"