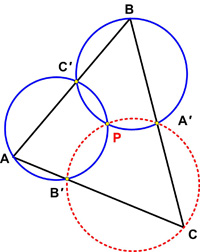 Here is yet another surprising result from Colin Hughes at Maths Challenge.
"Problem
It can be shown that a unique circle passes through three given points. In triangle ABC three points A', B', and C' lie on the edges opposite A, B, and C respectively. Given that the circle AB'C' intersects circle BA'C' inside the triangle at point P, prove that circle CA'B' will be concurrent with P."
I have to admit it took me a while to arrive at the final version of my proof. My original approach had some complicated expressions using various angles, and then I realized I had not used one of my assumptions. Once I did, all the complications faded away and the result became clear.