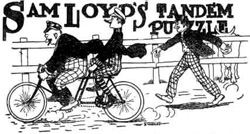 A glutton for punishment I considered another Sam Loyd puzzle:
"Three men had a tandem and wished to go just forty miles. It could complete the journey with two passengers in one hour, but could not carry the three persons at one time. Well, one who was a good pedestrian, could walk at the rate of a mile in ten minutes; another could walk in fifteen minutes, and the other in twenty. What would be the best possible time in which all three could get to the end of their journey?"
See the Tandem Bicycle Puzzle.