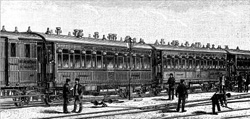 Yet another train problem from H. E. Dudeney.
"We were going by train from Anglechester to Clinkerton, and an hour after starting an accident happened to the engine. We had to continue the journey at three-fifths of the former speed. It made us two hours late at Clinkerton, and the driver said that if only the accident had happened fifty miles farther on the train would have arrived forty minutes sooner. Can you tell from that statement just how far it is from Anglechester to Clinkerton?"
See the Damaged Engine.