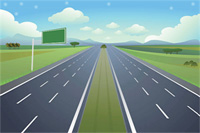 This turns out to be a fairly challenging driving problem from Longley-Cook.
"Mileage on the Thru-State Turnpike is measured from the Eastern terminal. Driver A enters the turnpike at the Centerville entrance, which is at the 65-mile marker, and drives east. After he has traveled 5 miles and is at the 60-mile marker, he overtakes a man operating a white-line painting machine who is traveling east at 5 miles per hour. At the 35-mile marker he passes his friend B, whose distinctive car he happens to spot, driving west. The time he notes is 12:20 p.m. At the 25-mile marker he passes a grass cutter traveling west at 10 miles per hour. A later learns that B overtook the grass cutter at the 21-mile marker and passed the white-line painter at the 56-mile marker. Assuming A, B, the painter and the grass cutter all travel at constant speeds, at what time did A enter the turnpike?"
See Turnpike Driving.