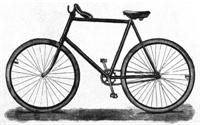 A fun, relatively new, Sherlock Holmes puzzle book by Dr. Watson (aka Tim Dedopulos) has puzzles couched in terms of the Holmes-Watson banter. The following problem is a variation on the Sam Loyd Tandem Bicycle Puzzle.
" 'Here's something mostly unrelated for you to chew over, my dear Watson. Say you and I have a single bicycle between us, and no other transport options save walking. We want to get the both of us to a location eighteen miles distant as swiftly as possible. If my walking speed is five miles per hour compared to your four, but for some reason—perhaps a bad ligament—my cycling speed is eight miles per hour compared to your ten. How would you get us simultaneously to our destination with maximum rapidity?'
'A cab,' I suggested.
'Without cheating,' Holmes replied, and went back to tossing his toast in the air."
See the Bicycle Problem