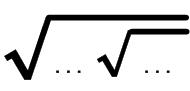 This is another UKMT Senior Challenge problem, but for the year 2005. I thought it was diabolical and hadn't a clue how to solve it. Even after reading the solution, I don't think I could have come up with it. I take my hat off to anyone who solves it.
"Which of the following is equal to


See Radical Radicals.