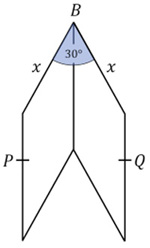 Another challenging problem from Presh Talwalkar. I certainly could not have solved it on a timed test at the age of 16.
"One Of The Hardest GCSE Test Questions – How To Solve The Cosine Problem
Construct a hexagon from two congruent parallelograms as shown. Given BP = BQ = 10, solve for the cosine of PBQ in terms of x.
This comes from the 2017 GCSE exam, and it confused many people. I received many requests to solve this problem, and I thank Tom, Ben, and James for suggesting it to me."
See the Parallelogram Cosine Problem