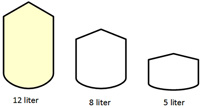 I was sifting back through some problems posed by Presh Talwalkar on his website Mind Your Decisions, when I found another 3 Jugs problem, which was amenable to the skew billiard table solution from my earlier Three Jugs Problem. Here is his statement:
"A milkman carries a full 12-liter container. He needs to deliver exactly 6 liters to a customer who only has 8-liter and a 5-liter containers. How can he do this? No milk should be wasted: the milkman needs to leave with 6 liters of milk. Can he measure all amounts of milk from 1 to 12 (whole numbers) in some container?"
I also believe I found a case where Talwalkar's solution to the last question needs revision. See the Three Jugs Problem Redux.