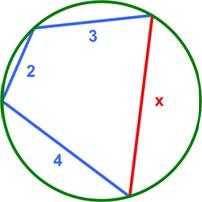 Here is another Brain Bogglers problem from 1987 by Michael Stueben.
"A quadrilateral with sides three, two, and four units in length is inscribed in a circle of diameter five. What's the length of the fourth side of the quadrilateral?"
Like a number of other Brain Bogglers this problem also uses an insight that makes the solution easy.
See the Quad in Circle Problem.