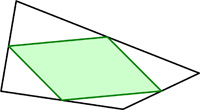 I came across this problem in Alfred Posamentier's book, but I remember I had seen it a couple of places before and had never thought to solve it. At first, it seems like magic.
In any convex quadrilateral (non-intersecting sides) inscribe a second convex quadrilateral with its vertices on the midpoints of the sides of the first quadrilateral. Show that the inscribed quadrilateral must be a parallelogram.
See the Magic Parallelogram.